We received a 2023 Kia Pet Adoption Grant from the Petfinder Foundation!
**See below for more information and special adoption rates! **
---
This Giving Tuesday, join our mission to support our feline friends in need! We strive to provide a safe haven for our whiskered companions, offering them a second chance at a happy, loving life. Your generosity can make an immense difference—help us provide essential medical care, nourishing meals, and cozy foster homes for these adorable furballs awaiting their forever homes.
Every donation, big or small, contributes to their well-being and ensures they receive the care they deserve. Together, let's make this Giving Tuesday a day of hope and compassion for our beloved cats! Thank you for being a hero to our furry friends.
Here is how your donation helps:
$15 - rabies or distemper vaccination
$30 - feeds a kitten for a month
$45 - helps with spay/neuter
$75 - helps with sick cat exam
$100 - helps provide prescription food for cats with special needs
Every little bit helps!! Even a $5 donation can help us get through these challenging times.
We also know that some of you are struggling too, so if you're not in the position to donate, you can also help by sharing our campaign with others you think might want to help or even better, start your own fundraising campaign, by clicking the button above that says "Fundraise for this Campaign." It's so simple.
Somehow, we always find a way to make it through for the benefit of those precious fur-babies. Sometimes it almost seems impossible and we look back and wonder how we got by. Then we quickly remember, our miracle is you!
Thank you for your continued support.

---
Please stop by and visit our GIVING TREE at PetSmart!
Help a cat's Christmas wish come true! Our tree has ornaments with items we are in need of most.
Labels on the ornaments are color coded as follows:
Green- Approximately $10
Pink- $10-$15
Silver-$15-$30
You can also purchase items from our Chewy and Amazon Wishlists.
Thank you for helping to bring joy to a rescue cat this holiday season!
---

NEED A GOOD GIFT IDEA?



These petite, sweet sisters are only 1 1/2 years old. They both had litters at the same time and are now finally ready to go to their own forever home. They are so close that we can't split them up, once you meet them, you will fall in love.

---
(KIA GRANT SPECIAL ADOPTION PRICING FOR THIS BONDED PAIR)
These two were outside for a very long time. Thankfully we got them and and they safe now. But they've been waiting for their furever home for over a year and it's so sad because they are the sweetest pair.
Toshiko will do anything to get you to pet him all over and loves napping on your lap. He will purr the whole time too. Sunny is just as amazing! He is a lap cat too who loves attention. His front right leg is bent from an injury, most likely fractured as a kitten, but that does not phase him at all. He is FIV+, but it just means he has the antibodies but he does not have the infection and probably will never get it. It's not contagious to humans or non-feline animals. All it means is that it's important that he is kept indoors and if he gets sick, be brought to the vet for proper care. Nothing unusual. They both deserve a furever home so badly and will bring you so much love and happiness.

---
---
You just have to meet

Kuina

in person! She is so beautiful and loving. Once you meet her, you will fall in love. We can't believe she's not adopted yet.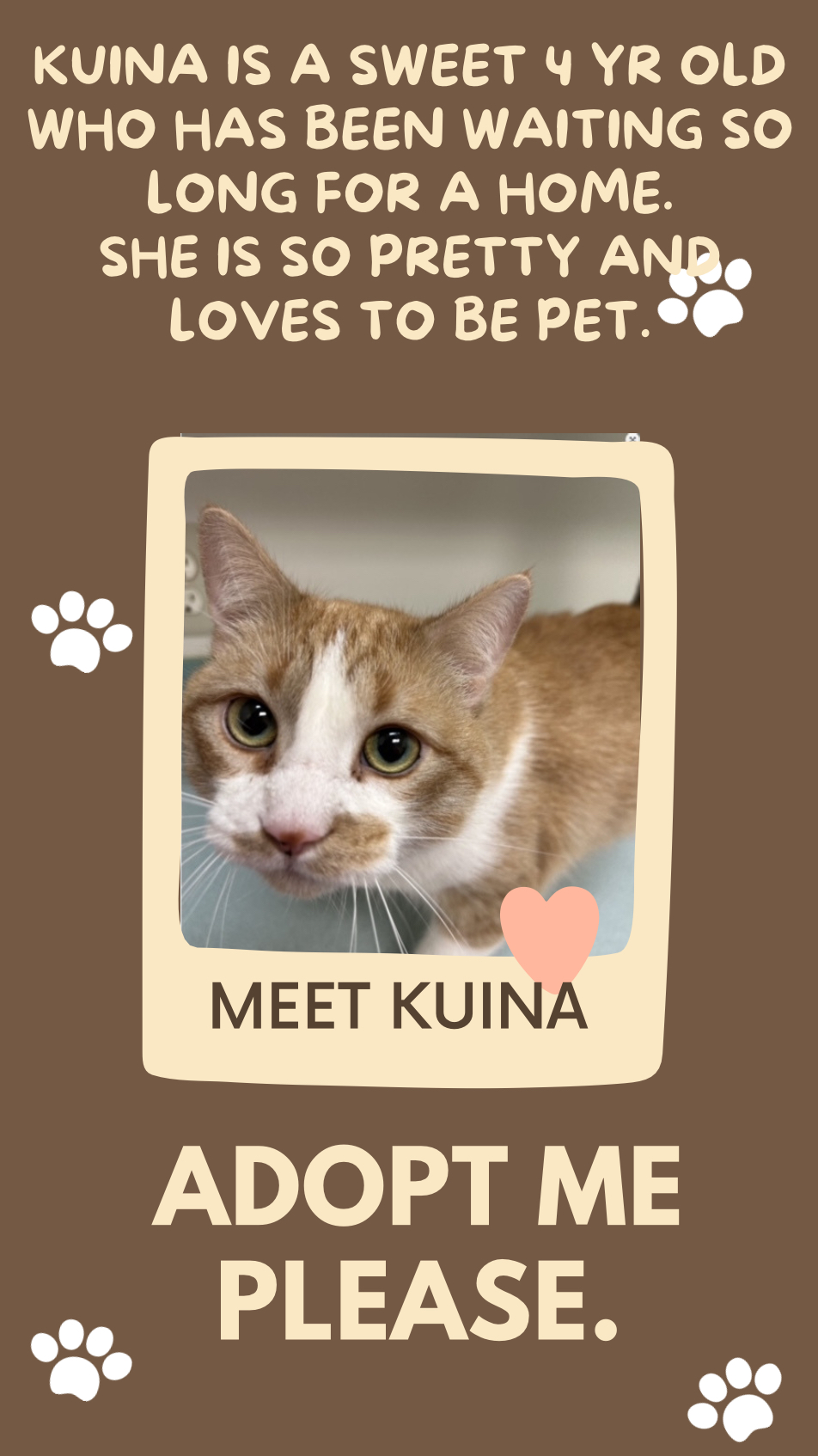 ---
All four of these sweet kitties came from a very overcrowded situation. They chose each other and became the cutest family. They are the sweetest, most loving cats and have been waiting for a home for too long.
---
We're so excited to announce that we've been awarded a 2023 Kia Pet Adoption Grant from the Petfinder Foundation! This grant allows us to reduce adoption fees for all the adorable and deserving cats pictured here. If you have room in your heart for any of these individual cuties or BONDED PAIRS, please fill out our adoption application today! Thanks to the generosity of Kia and Petfinder Foundation, the adoption fee on these select cats has been reduced to $30 for the individual cats pictured, and the grant will contribute $100 toward the adoption fee on these select pairs.